Neil Campbell and Robert Horton - Trojandropper LP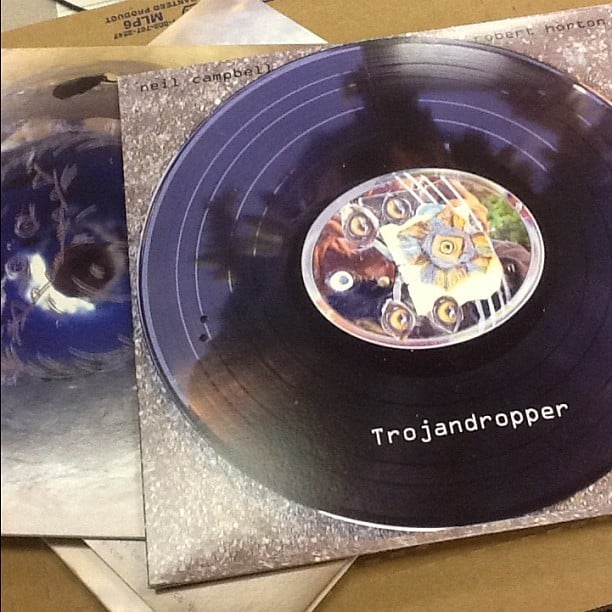 Neil Campbell & Robert Horton- Trojandropper (Zum033)
33 1/3 LP edition of 440
DOWNLOAD CODE INCLUDED
also available now on iTunes
‎"it's very strange music, delightfully strange...the artwork is weird, the music is weird." - DJ/rupture
"what I wish My Life in the Bush of Ghosts actually sounded like" - Larry Dolman, Blastitude
"The results throb with a skewed tension" - Pitchfork
( Bonus track for download on the Impose website)
Neil Campbell, a long-time player in the UK noise underground, is known for his Astral Social Club solo project and as a member of Vibracathedral Orchestra.
Robert Horton got his start in 1979 in the San Francisco punk-noise act The Appliances and the eclectic Plateau Ensemble. After a musical hiatus he returned in the '00s collaborating often with Tom Carter, Loren Chasse, and members of Yellow Swans, as well as releasing solo material under his own name and the moniker of egghatcher.
Although Campbell and Horton never met in person, they were both on the Jeweled Antler mailing list. Both musicians are ridiculously prolific and prone to collaboration and they got to talking disco. Campbell says, "Robert TOLD me in an email 'one day we'll make a disco record together'... who was I to argue?" As far as the end result being disco, Horton notes "we failed at that."
"It was a good idea," writes Campbell, "but you're also correct to draw attention to the missing of original target, which I really like - nothing better than the happy accident." Horton continues, "collaborations are about being surprised and this one did that often. Just when I thought I knew where it was going it went somewhere else. We still have it in our future plans to make a dance record. '70s retro disco with a serious virus inside that causes it to bleed drones."
Guest musicians on the album include Dan Plonsey and Hal Hughes (Horton's Plateau Ensemble bandmate). The title references the infamous Trojandropper virus that infected Horton's computer, eliminating many hours of work and files. The resulting album that had to be pieced back together is something that mixes organic, almost crystalline drones with off kilter beat patterns and lopsided techno. "Trojandropper" is beatific, odd, and an anomaly to even its creators, like all projects that take on a life of their own.
Robert Horton: bass, beats, boot, casio fz-1 sampler, CDs, computer, edits, filters, harmonica, loops, percussion, piano, shenai, tapes, trumpet, turntable, harmonium
Neil Campbell: acoustic guitar, bliptronic 5000, casios, computer, edits, effects, electric guitar, kaossilator, loops, weevils
Dan Plonsey: Soprano sax on "Slush Flotsam Bunny"